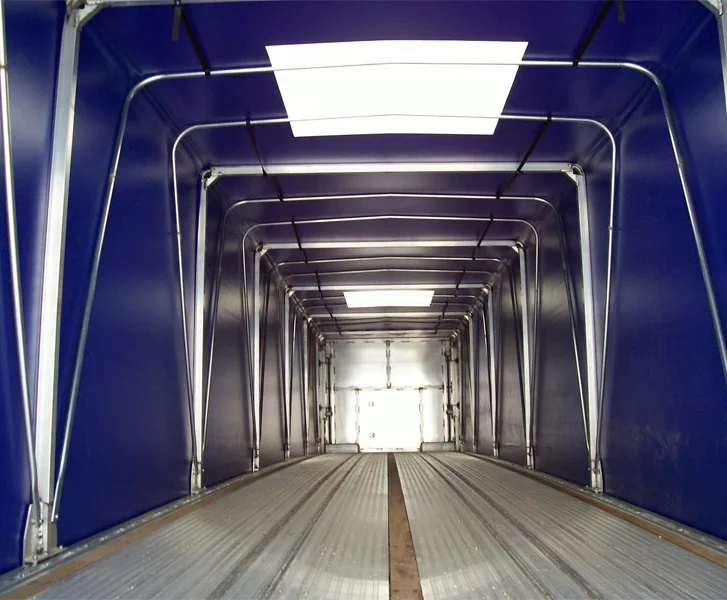 Vango 21
Rolling tarp systems have replaced sidekits as the preferred method for covering flatbed freight. The Vango from Merlot/Vango is fast becoming the #1 rolling tarp system on the market today. The Vango has earned the reputation as the most durable and easy to operate rolling tarp system on America's highways.
ALUMINUM CONSTRUCTION
The Vango system is extruded from 6061 aluminum. Even the carriages are aluminum. The entire system weighs less than 2000 pounds on a 48′ trailer.
FRONT LOCKING DEVICE
The front locking device is conveniently located on the front of the bulkhead. The operator can lock the system without climbing on the trailer.
REAR TENSION DEVICE
The rear tension devices are simple, fast and safe. The operator uses a winch bar to tension the Vango system from the ground. The Vango can be opened and closed without climbing on the deck of the trailer. Another option is a rear post and ratchet tensioning system inside the trailer.
REAR LOADING
The Vango roll up tail can be "set" on top of the roof. The tail is completely out of the way for rear loading.
CUSTOMIZATION
The Vango system comes in standard heights of 7'3″ and 8'1″. However, Merlot/Vango can customize your Vango to any height.
EASE OF USE
The Vango system is easily moved to any position on the trailer and compacts into an 8′ space on a 48′ trailer.
DOT APPROVED BULKHEAD
This is an important safety component of the Vango System. DOT approved, CFR Title 49 DOT 393.106 Total load tested 61,560lbs.
WARRANTY
Up to 7 year pro-rated fabric & wheel warranty to original owner.
"Mitch, Jeff, Jesse, Cyndi, and the rest of the TTPS team have been absolutely outstanding to work with! TTPS's world class craftsmanship and customer service are second to none! I highly recommend TTPS for all your truck and trailer equipment needs."
"Such a great company. Wonderful people and quality work. Thank you!"
"Talked to a guy named Larry with about an issue I was having with a trailer. He listened and gave me a solution to my problem. Then, he gave me a permanent solution to my problem, so it doesn't happen again. Thanks Larry!!"